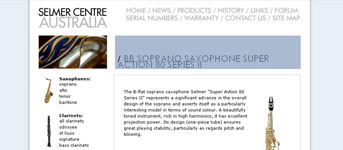 Selmer Centre Australia wanted a website which would list all the products they sell along with the ability to purchase the instruments online. Fuel Studios have come up with a budget priced secure e-commerce solution that allows for instant purchasing of products from the shop 24 hours per day.
Website Features:
Music Enthusiasts Community website which will have a user forum which allows websites users to communicate with each other over the website and add there own tips, articles and reviews
Optimised for search engines to improve rankings and create low cost internet marketing
Dynamic news section which allows for news to be posted up using a web interface, for simple and easy news updates.